Multiple websites and an e-commerce
Multiple websites for major international markets including separate e-commerce for UK market.

Having only very basic online presence, The Kids Food Company was in need for a website that could convey the message and showcase their great products to wider audience. Also, presence was needed for major international markets where Kiddylicious was present (Norway, USA, Netherlands, Australia)
First, a research was conducted with along the rest of marketing departament regardiung our customers. Personas, were created, user yourneys established as well as main pain  points. In the mean time I was working on information swtryucture as well as gathering all information about technology to be used, localisation methodology and IT structure needed.

The decisions were made to go with WordPress for the websites and Shopify for e-commerce platform. Both with  custom-made themes especially for Kiddylicious – both designed and developed by myself.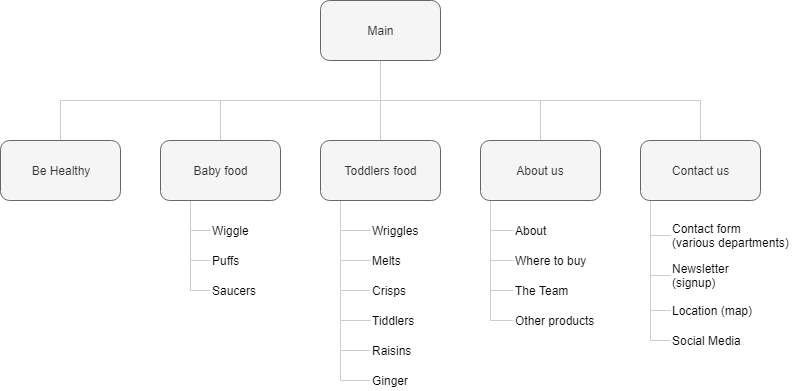 Diagrams
Diagrams and user flows were created to help with the process.

For a platform for all the websites we choose WordPress for ease of editing for non-coders to update and also for future maintenance. A custom made theme was build especially for Kiddylicious using mainly PHP, HTML and CSS. For E-commerce, Shopify was chosen as a platform – again the theme was custom build, this time using Liquid, HTML and CSS.

The result was 4 international websites (UK, USA, NL, AU) and a e-commerce shop to cover the areas where Kiddylicious products were not available in shops or were out of stock.